Five of The Best Custom Sharp Hockey Sticks to Improve Your Game
Five of The Best Custom Sharp Hockey Sticks to Improve Your Game
There are hundreds of options to choose from when it comes to elite senior hockey sticks and custom hockey sticks with the majority of them providing an exceptional light and snappy feel most players are looking for. Below is a list of five of the best sticks on the market today for players who demand value, durability and performance from their hockey sticks.
1. Bauer Nexus ADV Hockey Stick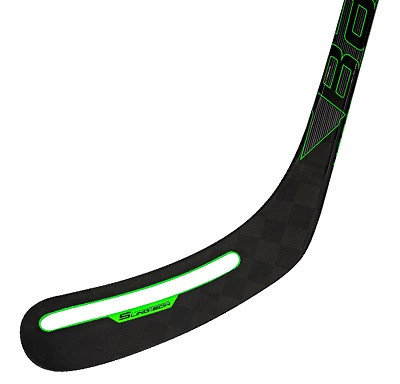 It may be hard to believe that a custom hockey stick with a hole in its blade could be so effective and durable. However, that's exactly the case with the Nexus ADV by Bauer. The senior hockey stick weighs just 365 grams due to the advanced carbon layering technology. It's built for quick-loading and release when taking all types of shots as well as superior puck control while stick handling.
It features a revolutionary five-shaft geometry design to remove excess layers of carbon in the stick's loading area while retaining a mid kick-point. This reduces the weight of the stick and enables faster energy transfer to the blade. You're able to shoot with less effort as the shaft fits perfectly in the palm of your hands.
Bauer's Slingtech blade means there's actually a hole in it making this one of the most unique custom hockey sticks on the market. With the hole, it results in a slingshot effect when the puck is released by the blade. This is due to the fact the blade now consists of two separate sections with each featuring unique properties that work hand in hand when shooting, similar to the blade having its own kick-point.

With the blade doing most of the work it's a lot easier and faster to load the puck when shooting without sacrificing any accuracy. In addition, the two blade sections are designed to hug the puck for maximum feel and control. The blade above the hole is rigid to keep it stable when loading to shoot while the section below the hole is flexible to enable it to bend and spring back releasing the puck.


2. CCM RibCor Trigger 4 Pro Grip Composite Stick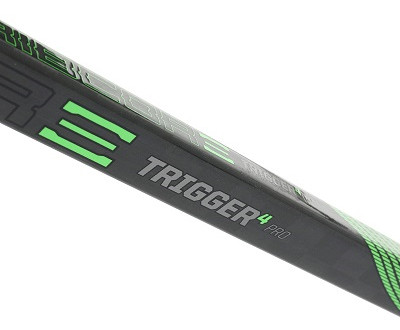 The CCM RibCor Trigger 4 Pro Grip composite stick is one of the most sought-after by elite hockey players. Like most brands, it can be found in a variety of curves, lengths and flexes with the average weight of the 85-flex P29 curve stick being just 392 grams. This is an ideal match for those who rely on a deadly accurate shot to keep opposing goaltenders off guard and to dish perfect passes to their teammates.

This stick features an asymmetrical taper design which helps provide better durability, a quicker release and an amazing feel for the puck when stickhandling, shooting and giving/receiving passes. The blade core speeds up your shot release without affecting accuracy while the linear profile enables the blade to whip slightly while shooting for perfect energy transfer. In addition, the torsional stiffness means the blade is always facing the target square on and prevents any twisting.

CCM has built this senior hockey stick with an X-Flow Resin system combined with high-grade Sigmatex carbon fiber for the best in consistency and energy flow and to make sure it's as tough as nails. The RibCor Trigger Pro Grip one-piece stick with a low-kick flex point is made to stay in your hands with its tacky grip and the shaft comes with straight sidewalls and rounded corners.

3. Warrior Fantom QRE Grip Hockey Stick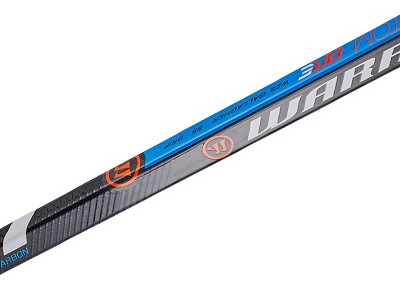 Players who want to use a lightweight senior hockey stick that provides a quick release and shooting accuracy should take a look at the Fantom QRE Grip model by Warrior. This stick weighs just 360 grams and doesn't sacrifice feel and durability due to the responsive Enigma 25K carbon fiber material used in the construction process. The unique tapered shaft helps make this custom hockey stick one of the best for accuracy as the lower section of the stick is stabilized.

Your shot release will be noticeably quicker with this model and it's an excellent choice for players who want to shoot as quickly as possible from tight areas close to the net. The shaft has straight sidewalls with rounded corners and feels fantastic in your hands. You'll have maximum control of the puck and stick due to the grip coating and raised texture as it helps lock the stick in place when passing, stickhandling and shooting.

Consistency and pinpoint precision are the name of the game with this senior hockey stick due to the flaw weave carbon design, low kick-point and foam-core blade with internal fibers. It comes in several different flexes and is ideal for one-timers, wrist shots, snap shots and those who prefer to play a finesse style of hockey while on the ice.
4. Surgeon RX3 Ice Hockey Stick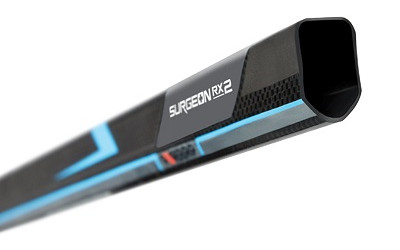 This elite stick by Surgeon is used by players who like to handle the puck and get their shots off in a split-second whenever the chance arises. It comes with a patented ergonomically-designed matte grip on the shaft with raised texture to maximize the contact between the stick and your hands. This allows for premium puckhandling even in the tightest and busiest areas of the ice. It has a dual kick-point for versatility and quick shot release and recoil and can easily stand up to the hardest of shots.

The blade is designed to withstand all types of impacts as it's injected with a special type of resin throughout the base. Also, high-grade carbon fibers ware woven seamlessly together for added durability and performance and superb puck feel. At the same time, puck responsiveness in this senior hockey stick is maximized due to the inventive sand grit application known as Pro-Grit.

The average weight of this model is 425 grams and you'll find it an ideal stick for players of all ages and skill levels as it also comes in youth and intermediate options. The energy transfer is lightning fast when pulling the trigger on your shot to help improve velocity and accuracy. The balance and natural blade feel are top notch and it's easy to see why this stick is quickly growing in popularity.


5. TOVI Hockey Sticks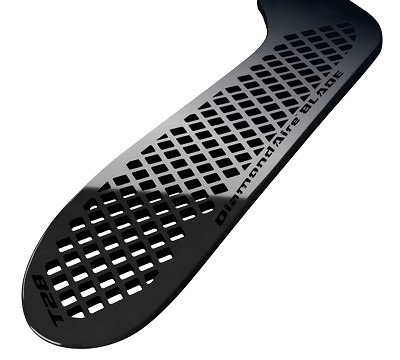 One of the newer manufacturers of custom hockey sticks is TOVI as they have developed a unique blade technology known as DiamondAire and use it in their line of sticks such as the Barrage, Sabotage and Mirage. The perforated blade is made with tiny holes in it for a unique design and is built for performance and durability. This is a revolutionary stick that is advertised as superior, faster and stronger and it's hard to argue the point.

When shooting, your swing speed is increased as the air is allowed to freely flow through the holes in the blade to help reduce drag and maximize your power. The blade features a cross-beam design with carbon fibers installed in several directions. There's also a unique high-tech resin applied to help extend the life of the blade and shaft. The feel of the puck is remarkable with the stick almost feeling like it's an extension of your arms.

Stickhandling is increased due to the grip technology which combines with the perforated blade as it holds the puck on the blade better. This also results in unparalleled accuracy when passing and shooting. TOVI's custom hockey sticks have been designed scientifically to help improve your game with the company's compression molding system and constant carbon fiber testing. This means the blade doesn't need a core and the perforated design makes for superb aerodynamics.